When it comes to tackling big projects or problems in your business – it can seem like there's an endless amount of work to be done and knowing where to start can be daunting. Whether you're working on a project solo or with your team – these problems can often be a sticking point and stop that amazing idea from coming to fruition.
Fear not – we here at Elevate Agency can help. We can facilitate a Design Sprint to aid growth in your business or project!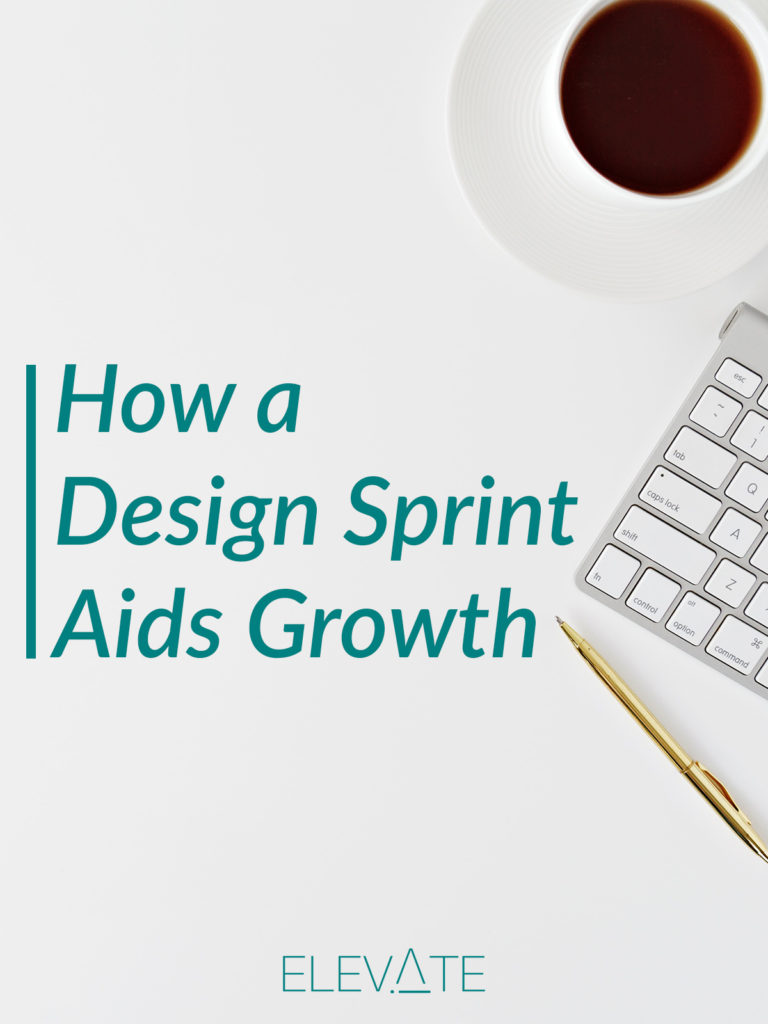 Just how can a Design Sprint help grow your Business?
You might be wondering what a Design Sprint is, and how it can help your business or project grow.
Created in 2010 at Google by Jake Knapp, the Design Sprint process was influenced by the culture of product improvement at Google. Since its inception, design sprints have been run by Slack, Uber, Airbnb, Dropbox, Facebook, Lego, the UN, and loads more!
So, you can see why so many trust the Design Sprint process. That's why we became Design Sprint Facilitators!
The process takes place over 5-days – with the intention to build and test a prototype by day 5. When you work with us, as certified Design Sprint Facilitators, we'll promptly progress from sticking point to a tested solution.
A good way to think about a Design Sprint is to imagine it is like peering into the future. You can see how clients & potential customers might feel about your new product or big idea, without investing a huge amount of time or resources into the full launch.
It also challenges the way your company or project works. Removing the same, tired default working methods, and breathing fresh air into your practices.
It all sounds pretty amazing, right?
Like the solution you've been searching for to take your business or project to the next level. But how exactly does it work? What are the specifics?
Well, we've outlined below the 5-day process, so you can get a little taste of what working with us as Design Sprint Facilitators will involve…
Map
The starting point of any good design sprint is focused conversation. This lays the foundation for the week ahead. The idea here is to get as much information into the group collective as quickly as possible, without straying off task as is normal in meetings.

After, in the morning, the overarching goal will be defined, as well as a primary question. Following this, a 'map' will be created of the product or service you provide.

Come the afternoon, drawing on the expertise of the individuals in your group and us, a point on the map will be identified. One that represents a great opportunity or peril.
Sketch
On the second day, the focus is on coming up with solutions to the problem identified on Monday. Instead of relying on tired old methods of mind-mapping and roundtable discussions that get you nowhere – each member of the group splits off and creates an individual, in-depth solution.

You won't be alone in this, however – we'll outline a process that focuses on results and critical thinking.
Decide
By the morning of the third day, a plethora of ideas will be present. The main focus of Wednesday is to decide which of the ideas is taken from the sketch and brought to life as a prototype.

We know how laborious the process of decision making can be. Never-ending discussion. Debates that seem to pose more questions than they answer. No more.

We'll guide you through the decision-making process using tried-and-tested decision-making methods. With this, the choice solutions will be identified.

Following this, as a whole team the best ideas will be combined into a step-by-step plan that will guide the creation of your prototype.
Prototype
Thursday is a day of creation and imagination. Working as a team and building on your individual skillset, you'll build a realistic prototype that you can use to simulate the finished product to clients. This could be a physical product built using altered current products, a mock-up of a website or coaching service, or anything else we can create.

The main goal is to create something that is as realistic as possible, so you can obtain the most accurate response from clients and take this forward.
Test
On the final day of the design sprint process, you'll introduce the prototype to clients in individual, one-on-one sessions. You'll get on the spot, first impressions which are collated to inform a final decision at the end of the process.

No waiting until a full product launch with £££ invested – real client responses on the day, so we can refine and re-tool the prototype to inform the final product.
Looking at the outline of the Design Sprint process, it's easy to see how effective it can be. Distilling a problem down, using the team's individual skillset, utilising time effectively, creating a prototype in a single day, and gaining real client feedback data – all within a 5-day period. No wonder so many top companies and start-ups have run design sprints!
So, what's stopping you? Got that next big idea that's going to launch your business or project into the stratosphere?
Get in contact with us today and we can start planning out a design sprint tailored to your needs, and elevate your business or project!
Not ready for a full-on Design Sprint yet?
You might be thinking that this sounds like a lot. Maybe your business or project isn't quite ready for an intense 5-day process, and that's okay! A design sprint only works when all members are on-board and it's the right time to run one.
If now isn't the time, you can still book in a strategy session with us. We facilitate sessions for an hour, or half a day. Head over to our contact page by clicking the button below, and fill in the forms so we can get back to you and help elevate your business or project!